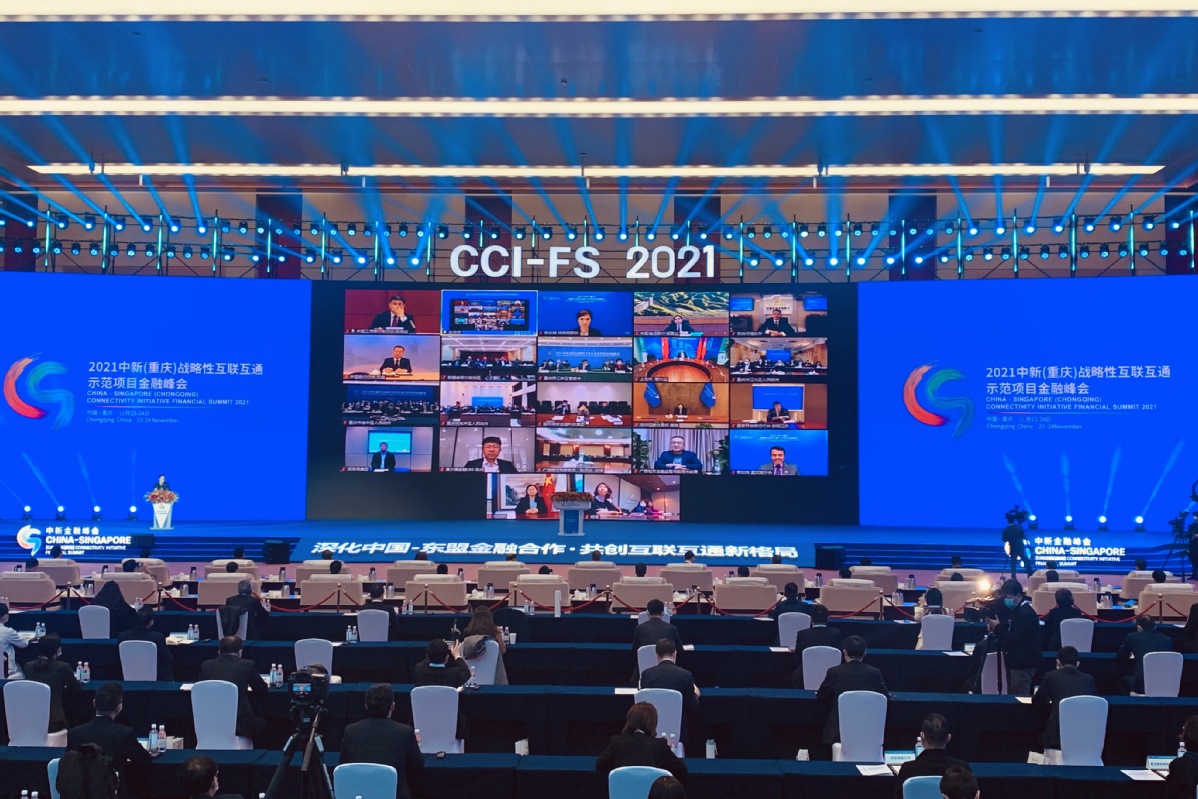 The China-Singapore (Chongqing) Connectivity Initiative Financial Summit 2021 kicked off on Tuesday. [Photo provided to chinadaily.com.cn]
Deals for 85 projects collectively valued at 101.1 billion yuan ($15.83 billion) were signed at the China-Singapore (Chongqing) Connectivity Initiative Financial Summit 2021 on Tuesday, as the event kicked off online and in person.
China and Singapore in the past six years have instituted 72 creative policies involving cross-border investment, financing and renminbi services, Tang Liangzhi, the mayor of Chongqing municipality, noted at the launch.
In addition, 49 key projects, such as the CCI Fintech Collaboration Demonstration Zone, were settled in Chongqing, and 19 financial entities were set up, including the China-Singapore Connectivity Private Equity Fund and 24 innovative initiatives, including a pilot for cross-border asset transfers.
"It is still a challenge for each of our countries to manage the impact of COVID-19, but events such as this demonstrate our resilience in adapting to the new reality and the importance of staying connected," said Josephine Teo, Singapore's minister for communications and information, in a speech delivered via video link. "ASEAN-China ties have remained strong during this period, with 2021 marking the 30th anniversary of ASEAN-China dialogue."
The two-day summit will focus on the national strategies of the Chengdu-Chongqing Economic Circle, the development of western China and the building of the New International Land-Sea Trade Corridor. It will feature exchanges of ideas on financial stability, expanding two-way opening-up in finance, building a modern financial system and serving the Belt and Road Initiative.
The China-Singapore (Chongqing) Demonstration Initiative on Strategic Connectivity (or Chongqing Connectivity Initiative) was signed in 2016, with Chongqing as the headquarters. It launched the New International Land-Sea Trade Corridor project in a bid to speed up high-quality development in western China.
The summit, known as CCI-FS, has been successfully held for three consecutive years since 2018. It has become an important platform for financial industry exchanges and cooperation between western China and ASEAN countries.
Source:chinadaily