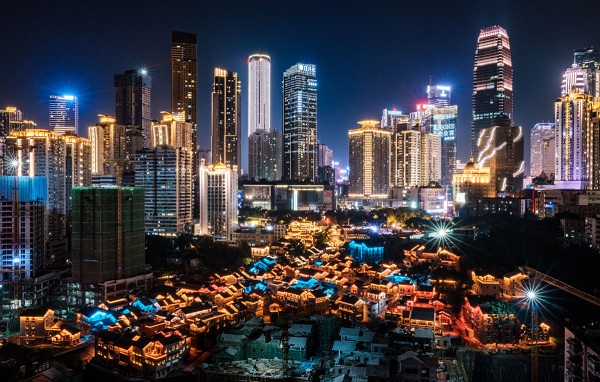 Shibati or the Eighteen Ladder, lights the streets of Chongqing on July 28, 2021. [Photo/IC]
Southwest China's Chongqing municipality saw stellar growth in the number of newly-established foreign-invested enterprises and foreign investment inflow in the first half of 2021, the municipal commission of commerce said.
From January to June, 147 new foreign-invested firms were established in Chongqing, up 34.9 percent year-on-year. High-tech companies accounted for nearly 30 percent of the total, according to the commission.
The city's foreign investment in actual use expanded 20.1 percent year-on-year to $4.82 billion in the first six months.
The municipal commission of commerce attributed the strong performance partly to broad optimism from foreign-invested firms. A recent survey by the Ministry of Commerce shows that 96.4 percent of foreign-invested enterprises are optimistic about their business prospects in China.
In the first half of the year, foreign direct investment (FDI) into the city's services industry accounted for nearly 70 percent of the total.
FDI from 14 Regional Comprehensive Economic Partnership (RCEP) member states in the first six months made up approximately 30 percent of the city's total FDI, while FDI from countries and regions along the Belt and Road accounted for over 80 percent. Notably, FDI from the Association of Southeast Asian Nations (ASEAN) surged 171.4 percent year-on-year, up 19.9 percentage points compared with the same period last year.
Source:Xinhua