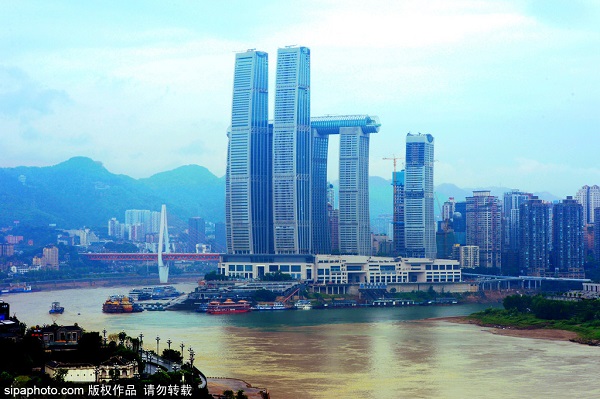 A bird's eye view of Chaotianmen in Chongqing, where the Yangtze and Jialing rivers converge, Aug 31, 2019. [Photo/Sipa]
Chongqing eyes to be a pioneer in promoting the application of block chain technology as the southwestern Chinese metropolis scrambles to cultivate an industrial cluster for companies that work in the cutting-edge technology.
Lyu Hongqing, an official at the Chongqing municipal administration for big data application and development, said the metropolis has established China's first industrial innovation base for block chain in its Yuzhong district, and the base has already housed 40 companies, including local startups, such as Jinvovo Technology and tech heavyweights, such as Inspur.
"We are also in discussions with more than 30 block chain companies to attract them to settle down in Chongqing," Lyu said.
According to Lyu, these companies have pushed forward the application of block chain in areas such as finance and e-governance.
Lyu said one of Chongqing' edges in cultivating the block chain industry lies in its burgeoning digital economy. In the first half of this year, the market size of Chongqing's digital economy grew 15.6 percent year-on-year, despite the COVID-19 outbreak.
Li Zuyao, deputy head of the Big Data Development Bureau for the Yuzhong district in Chongqing, said the district aims to nurture more than 150 block chain companies by the end of 2022, which are expected to generate an output of 10 billion yuan ($1.46 billion) by then.
Source:ChinaDaliy